This poster was up in every exam room at my ob's office when I was pregnant with Madeline. I would stare at it every visit while waiting for the doctor. When Madeline was born unexpectedly at 35 weeks, this is the image that haunted me.
As grateful as I was for our little 3 lb 6 oz miracle, I was also terrified at how her prematurity and size would affect her long term.
We pray every day with Madeline, thanking God that she is growing healthy and strong. And then we just choose to trust Him that she is doing just that.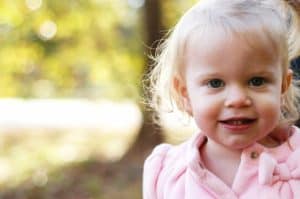 Our little miracle baby might still be little, but she is also smart, determined (read: strong willed), and funny. She is my every day proof that when you choose to hand your fears over to God and trust Him, great things will happen.